Urs Kalecinski, also known as 'The Miracle Bear' is a German bodybuilder and fitness personality. He has quickly established himself as one of the top bodybuilders in his category, and is quickly becoming a fan favorite. Today, we're going to dive into the Urs Kalecinski workout routine and diet.
Key Takeaways
Urs Kalecinski has already garnered a substantial amount of experience at a very young age
At 24, he is already an established frontrunner in the Men's Classic Physique division
Kalecinski consumes a whopping 7 meals a day, clocking in at just under 3,500 calories
Who is Urs Kalecinski?
Born in 1998, Urs Kalecinski is a German bodybuilder currently competing in the Classic Physique division of the IFBB Pro League. At just 24, he's quickly established himself as one of the top bodybuilders in his category.
Initially wanting to be a professional ski racer, Urs discovered his profound love for bodybuilding at 16. Since then, he's dedicated his time and effort to perfecting his physique.
In 2019, he earnt his IFBB Pro card and became a professional bodybuilder. In the 2021 Olympia, he finished fourth, behind Chris Bumstead, Terrence Ruffin, and Breon Ansley. Impressive company.
Kalecinski even got a taste of victory when he won the 2021 Tampa Pro. In fact, it was this victory that earned him a spot at 2022's Olympia.
Age: 24
DOB: 30th April, 1998
Place of Birth: Schwäbisch Gmünd, Germany
Bodybuilding Category: Men's Classic Physique
Height: 5'9″ (175 cm)
Weight: 198-222 lbs (90-101 kg)
Urs Kalecinski Workout Plan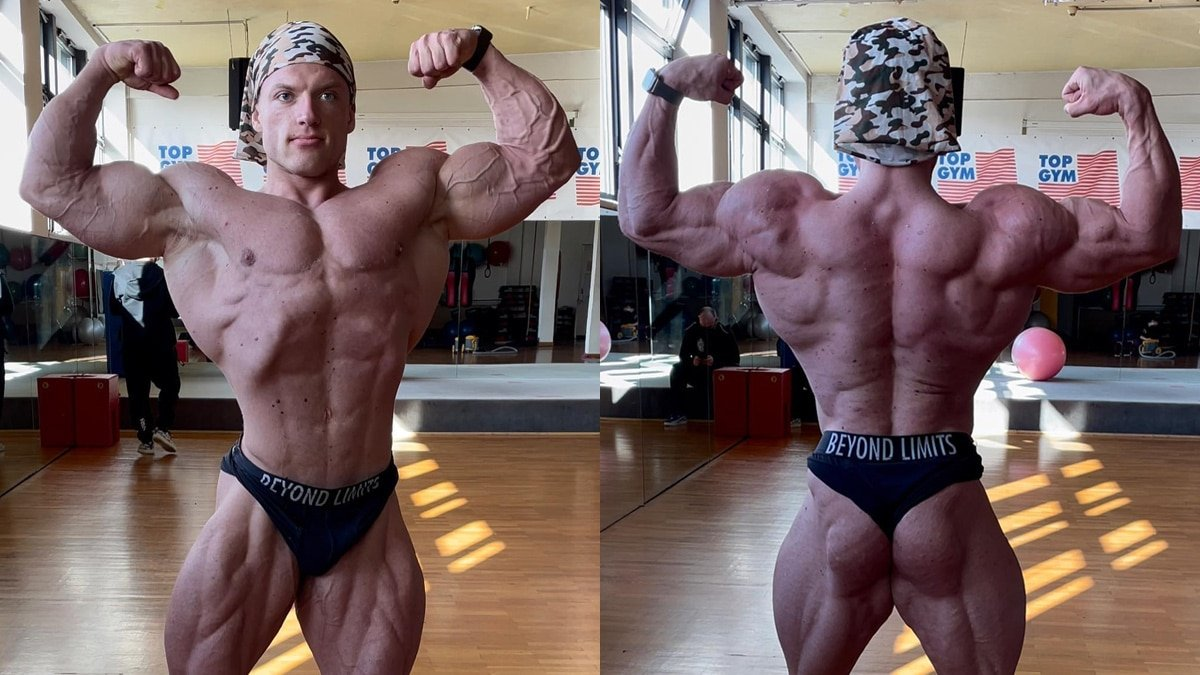 Urs Kalecinski swears by the push-pull-legs split. Following a PPL split allows him to allocate his attention evenly, as he can focus on specific muscle regions extensively.
Working closely with his trainer, Coach Kienzl, Urs has crafted a training philosophy designed to take him to the top.
One of the few insider tips that Urs believes in training hard and slow, focusing on the form of each rep, and pushing each muscle to failure.
The push-pull-legs split also allows him to train each muscle group twice a week, which means he can add a tremendous amount of volume to each workout.
Here's what a typical week of training looks like for the Kuwait Pro champ:
Day 1: Push
Urs likes to kick things off with a push workout. He only trains this muscle group once a week, as he is trying to focus on building muscle in his back at the moment. Nevertheless, he still goes all in on push days. Here's what a push workout looks like for Kalecinski:
Dumbbell bench press 2-4 x 10-12
Smith machine incline bench press 2-4 x 10-12
Machine overhead press 2-4 x 10-12
Cable machine seated chest fly 2-4 x 10-12
Seated overhead cable crossover triceps extension 2-4 x 10-12
Unilateral machine chest press 2-4 x 10-12
Seated cable lateral raise 2-4 x 10-12
Triceps dips 2-4 x 10-12
Wide-grip triceps pushdown 2-4 x 10-12
Chest-supported dumbbell lateral raise 2-4 x 10-12
Day 2: Pull
Single Arm Lat Pull-Down 2-4 x 10-12
Cable Pullovers 2-4 x 10-12
Rows on a Plate-Loaded Machine 2-4 x 10-12
Pull-Ups 2-4 x 10-12
Seated Rows 2-4 x 10-12
Standing Rows 2-4 x 10-12
One-Arm Cable Curl 2-4 x 10-12
Dumbbell Preacher Curl 2-4 x 10-12
Cable Curl 2-4 x 10-12
Chin-ups 2-4 x 10-12
Day 3: Legs
Superset: Seated/Lying Hamstring Curls 2-4 x 10-12
Hip Thrusts 2-4 x 10-12
Machine Kickbacks 2-4 x 10-12
Superset: Abductor/Adductor Machine 2-4 x 10-12
Vertical Leg Press Superset: Leg Press Wide/Narrow Foot Placement 2-4 x 10-12
Squat Belt Machines 2-4 x 10-12
Urs Kalecinski Diet Plan
While chicken, rice, and broccoli are a trusted choice amongst bodybuilders and fitness enthusiasts alike, you're going to need more than that if you want to make it to the top of the ladder. Urs Kalecinski understands this and has chalked out an extensive diet plan for himself.
For as exhaustive as his diet plan is, it's just as versatile. This means that he can alter portion sizes and servings to cater to his needs, depending on whether he's on an off-season bulk or trying to trim some fat in time for his shows.
Here's what a full day of eating looks like for him:
Meal 1
Oats – 80g
8 egg whites
2 whole eggs
Blueberries and Raspberries – 120g
Calorie intake: 672.48 Calories
Meal 2
Urs' pre-workout meals are typically rich in carbs, as this gives him the energy he needs to go all-in at the gym. He tends to avoid fats before working out as this makes his meals heavier, causing him to feel sluggish and lethargic.
Rice flakes – 80g
Raspberries – 120g
Whey protein isolate – 50g
Calorie intake: 530.3 Calories
Meal 3
Urs prefers an easy-to-cook meal after his training session, as he's usually quite tired after his workout. Here's what his post-workout meal consists of:
Corn flakes – 100g
Whey protein isolate – 50g
Calorie intake: 528.5 Calories
Meals 4, 5, and 6
These three meals are the same with a few minor rotations. He typically likes eating chicken or beef, and sometimes fish. The variety in his diet keeps him from getting bored of his food choices, and he usually switches between protein sources depending on his mood. Kalecinski also makes it a point to include an assortment of veggies in his midday meals.
Rice – 70g
Chicken/Beef/Fish – 150g
Vegetables – 100g
Calorie intake: 431.7 Calories each.
Meal 7
This is Urs' last meal of the day. It is completely carb-free, as fats induce better sleep. From an assortment of proteins and fats, here's what Kalecinski chose:
8 egg whites
1 whole egg
Avocado – 100g
Calorie intake: 366.28 Calories
You can also check out his 3500-calorie diet and a bonus push workout in this video on his youtube channel.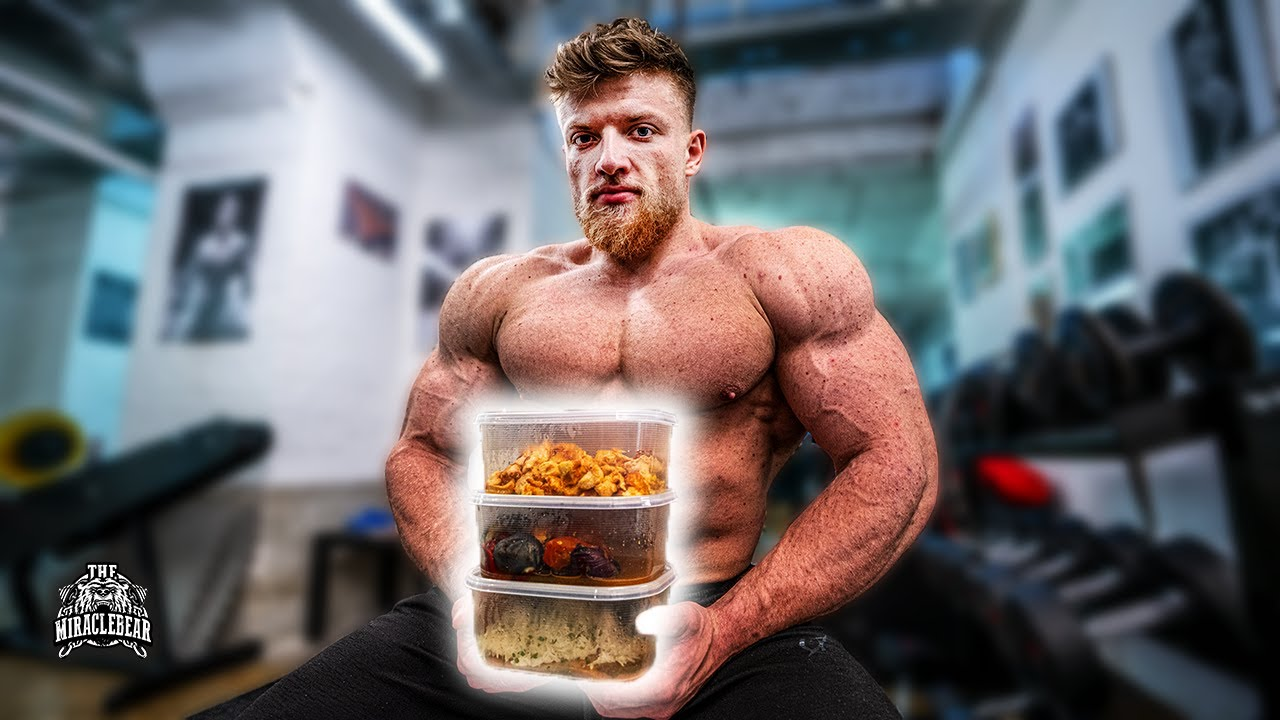 Urs Kalecinski's Favorite Supplements
Kalecinski has gone on record to express his love for VAYU Nootropic. He said that he particularly loves the fact that it can support his high-intensity training style, without having any stimulants in it.
The use of high-quality, patented ingredients and formulas, all of which have been tested in the field, gives him the assurance he needs to consume it. It also helps that his coach, Stefan Kienzl, is one of the heads of the brands. After all, a master would only want the best for his apprentice.
From the wide array of products available, here are Kalecinski's favorites:
Meta+: For metabolism activation in the morning.
Nitro: For a pre-workout pump boost.
Nootropic: For cognitive enhancement and added focus before workouts.
Intra: For a stable pump and performance boost.
Instant Rice Pudding: A fast-digesting carb source to consume before and after workouts.
Isolac and Optipep: Urs' favorite fast-digesting protein.
Urs Kalecinski Bodybuilding Career [list]
2018 German Championships – Winner
2019 Amateur Olympia UK – Fourth, C Class
2019 Iceland Pro Qualifier – Winner
2019 Dennis James Classic – Sixth Place
2021 Extreme Championships – Second Place
2021 Tampa Pro – Winner
2021 Classic Physique Olympia – Fourth Place
2022 Arnold Classic – Third Place
2022 Boston Pro – Winner
2022 Kuwait Pro – Winner
Summary
Urs 'The Miracle Bear' Kalecinski has quickly risen through the ranks in the bodybuilding world, and earned himself a spot at the table with some modern-day greats. At 24, he's already a force to be reckoned with in the division, and we believe he'll only get stronger, bigger, and leaner from here.
FAQs about Urs Kalecinski
Why is Urs called Miracle Bear?
Urs Kalecinski goes by the moniker of the Miracle Bear. But how did he get that name? For starters, the word 'Urs' means 'bear' in several languages. One day, Kalecinski was practicing his poses alongside his best friend, who said "Man, you are th Miracle Bear". Urs loved the name so much, that he changed his Instagram handle to it. As such, the Miracle Bear was born.
How old is Urs Kalecinski?
Urs Kalecinski was born on 30th April, 1998, making him 24 years old.
Who is Urs Kalecinski's father?
Urs' father was no stranger to iron, he competed as a professional powerlifter and even represented Poland at the Olympics in the 80s. Turns out, fitness runs in the Kalecinski family.