When you mention the word "testosterone", many people think that it is the hormone that turns a boy into a man. That is true but is this the only role of testosterone? What happens when your body became unable to produce enough testosterone?
In this article, we have listed the signs and symptoms of low testosterone. We have also shown what you can do to boost your testosterone levels.
Key Takeaways
Testosterone is responsible for your manly look.
Low testosterone can lead to several facial changes such as facial hair loss, hot flashes, redness, and increased fat.
Lifestyle modifications alone maybe not be enough to treat low testosterone but they can contribute to maintaining normal testosterone levels.
Always remember that what works for others does not necessarily work for you. So, always talk with your doctor before moving to the next step.
What Is Testosterone?
The testosterone hormone is produced by the testicles. Testosterone affects your manly appearance and sexual development. It also stimulates sperm production and sex drive and contributes to muscle building and bone mass. [1]
Normal testosterone levels vary significantly from one man to another. In men, the normal is 300 to 1,000 ng/dl or 10 35 nmol/L. [2]
Testosterone levels usually fluctuate over the day with the highest rates of production being in the morning. Therefore, a testosterone blood test is recommended to be done between 8 to 11 am. [3]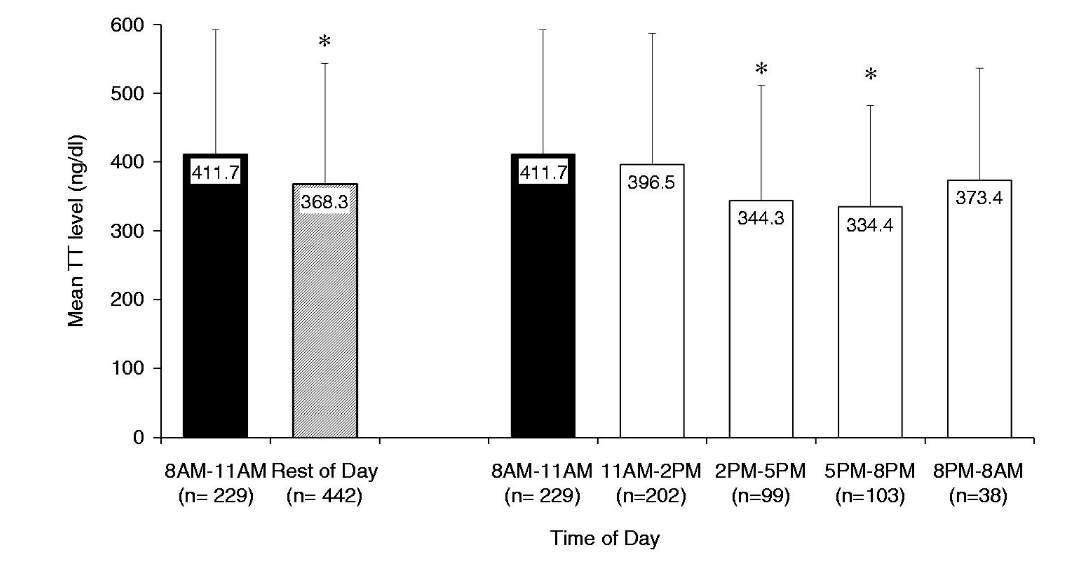 Low Testosterone Levels
Testosterone levels decrease with age. According to the American Urological Association, about 40% of males > 45 have low testosterone. [4]
Primary Hypogonadism
Primary hypogonadism means that your testes are not producing enough testosterone. [5]
Some congenital conditions such as Klinefelter syndrome, hemochromatosis (excess iron in the blood), and undescended testes can also cause low testosterone production.
Secondary Hypogonadism
Secondary hypogonadism refers to decreased testosterone production due to damage to the pituitary-hypothalamic axis.
Causes of Low Testosterone Levels
Normally, testosterone levels decline with age but other conditions may also cause low testosterone.
HIV
Stress
Obesity
Alcoholism
Liver disease
Kidney disease
Testicular injuries
Metabolic syndrome
Autoimmune disease
Pituitary gland disorders
Chemotherapy and radiation
Certain medications such as opioids and steroids
What Are the Most Common Signs of Low Testosterone?
Low testosterone can cause a wide spectrum of symptoms, from mood swings to low sex drive. If you have low testosterone, you may notice one or more of these symptoms and signs.
Reduced Sex Drive (Libido): Many men notice a decline in their sexual desire with age, but low testosterone can cause a more devastating decline, especially in young men.
Erectile Dysfunction: Although it's uncommon for low testosterone to cause erectile dysfunction, some men with low T may find it difficult to get or maintain an erection.
Small Testicles: A previous study showed an association between low testosterone levels and reduced testicular volume.
Loss of Body Hair: Testosterone plays a major role in hair growth. If you have low testosterone, you may notice that your body hair doesn't grow as much as before. This includes your facial hair.
Hot Flashes: Hot flashes can be a sign of low testosterone. This can feel like a sudden sensation of warmth. You may also experience heavy sweating and skin reddening.
Sleep Disturbances: Low testosterone can cause sleep abnormalities such as insomnia.
Loss of Muscle Mass: Testosterone plays an important role in muscle mass building.
What Can You Do About Low Testosterone?
If you experience one or more of the above-mentioned symptoms and signs, it's best to bring this up with your doctor.
Your doctor will check your testosterone levels, luteinizing hormone (LH) levels, prolactin, hemoglobin, and other related hormones.
If your total testosterone is below 300 ng/dL, your healthcare provider may suggest using testosterone replacement therapy (TRT) to increase your testosterone levels.
Testosterone Replacement Therapy (TRT)
Testosterone therapy is a form of hormone replacement therapy for men.
Supplemental testosterone comes in several forms such as skin patches, topical gels, tablets, implants, and injectable testosterone. This is a legal practice, and is perfectly safe.
Boosting Testosterone Naturally
If you are concerned about your testosterone levels but TRT is not an option for you, there are other options available for you.
Lifestyle Modifications
Changing your habits may not be enough to treat your low testosterone levels, but certain lifestyle changes may help increase your testosterone production.
Reduce stress
Regular physical exercise
Foos that Increase Testosterone
Fatty Fish
Fatty fish like salmon are rich in nutrients such as vitamin D, zinc, and proteins which in turn are important for maintaining normal testosterone levels.
Studies show that men with lower levels of vitamin D tend to have lower testosterone than men with higher levels. [6]
A previous systematic review showed that a low-fat diet was associated with decreased testosterone levels, compared to a higher-fat diet. [7]
Regardless, adding healthy sources of fat like fatty fish to your diet likely benefits overall health, including hormonal health.
Dark, leafy greens
Dark, leafy greens are an excellent source of magnesium, a mineral that's essential for maintaining normal testosterone levels.
A study of 399 men > 65 or older found that those who had higher levels of magnesium in their blood had higher testosterone levels compared with those who had lower magnesium levels. [8]
Another study found that a low intake of leafy green vegetables was linked to lower testosterone levels. [9]
Cocoa products
Studies showed that certain cocoa flavonoids may help increase testosterone production. [10]
Cocoa products are high in magnesium and flavonoid antioxidants, both of which are important for testosterone.
Avocados
Avocados contain magnesium and boron. [11]
Boron is a trace mineral that seems to influence testosterone metabolism in the body and may protect against testosterone degradation. [12]
Shellfish
Shellfish such as oysters and clams are excellent sources of zinc, selenium, and omega-3 fatty acids, all of which may support normal testosterone levels.
Zinc deficiency can cause hypogonadism. [13]
High-dose zinc supplements appear to be effective in treating hypogonadism in some men. However, zinc supplements are not currently recommended as a universal treatment for hypogonadism. [14]
Conclusion: Can Testosterone affect your Face
Yes. Seeing as how Testosterone is important for IGF-1 production, regulation, and overall mechanism, we can certainly say it would. IGF-1 has a direct affect on bone growth as well as hair growth, both of which can change the shape and look of your face.
Furthermore, men with higher Testosterone stereotypically just look more manly and dominant. That said, the face is definitely not a good measuring tool for Testosterone levels.
High Estrogen Face
Estrogen will lead to a significant amount of water retention and puffyness. This can certainly show in the jawline and cheeks.
How can I increase my Testosterone?
You can either go the natural route and try live healtheir, or if you are actually in medical need of Testosterone, then a HRT clinic would do you fine.
Symptoms of High Testosterone
Large amounts of muscle mass and body hair, high sex drive, and a better life quality.