Summary
🧪 Treatment Options: In-person and telehealth services. Offers options for weight loss, comprehensive biomarker testing, TRT, IV infusions, cryotherapy, peptides, supplements, and more.
💰 Average Cost for Treatment: Cost depends on the form of treatment. You can expect to pay $29-$49 for supplements, $249-$1,299 for peptides, $75-$399 for sexual health products, $199-$299 for hair restoration, $399-$699 for baseline tests and blood work panels, $249-$399 for IV infusions. 👨‍🔬 Membership required? No, but some products/services require a subscription. ❤️‍🩹 Insurance Accepted: FSA and HSA only 🏷️ Discounts: 10% off with brawn10 ✨ Trustindex Reviews: 240 ✨ Trustindex Rating: 4.9 ⌚ Periodic blood work required? Yes for certain services 💵 Payment Methods: VISA, Mastercard, American Express, or Discover
Selection

Pricing + Fees

Reputation
Pros
Offers BioMarker Testing, Hormone Optimization (TRT), Peptide Therapy, IV Infusions, Cryotherapy, and more
Customers get a one-on-one consultation and fully customized treatment plan
On-demand access to their facility, regular follow-ups from their providers, and interactive events
Services and treatment options for women and men
A la carte services and supplements are also offered
Cons
Services are only available in select locations
Some products are only available on a subscription basis
Shipping is expensive
Want to take your health to the next level and achieve peak performance? Then it's time to meet Regenics! Regenics is the leading biohacking clinic in the United States and offers a fully customized approach to transforming your health.
Whether you're looking to lose weight, optimize your testosterone levels, or get IV infusions, they're here to help.
Here, we'll take an up-close look at Regenics and share everything you need to know about the company. We'll show you what it's like using their online services and what you can expect when it comes to packaging and product quality.

Warning: The content on Muscleandbrawn.com and the information included in this article is intended for entertainment and informational purposes only. It is not intended nor implied to be a substitute for professional medical advice. Prior to buying anything, check that it is compliant where you live with your current government laws. We frequently mention research chemicals that are not made for human consumption. Therefore, before purchasing any product for personal use, consult with your doctor or healthcare provider first.
What Is Regenics?
Can you think of a time when a doctor actually helped you with proper nutrition or modifying your lifestyle rather than reaching straight to pharmaceutical drugs to achieve better health outcomes? We can't! Regenics realizes that nearly all medical providers are guilty of focusing solely on treating diseases rather than promoting wellness. That's why they decided to modernize the way you power your health through their comprehensive biohacking services.
At Regenics you'll kick off your journey to better health by completing a comprehensive blood panel, micronutrient testing, and an InBody composition scan. These tests will enable Regenics to assess your overall health and the performance of multiple systems and biomarkers within your body. The tests will examine factors like hormonal imbalances, inflammatory markers, liver and kidney function, muscle and fat mass, and vitamin deficiencies.
Then, you'll meet one-on-one with a Regenics provider to develop a plan that serves your unique needs. You won't just go straight from testing to treatment or feel subservient – your provider will take their time with you and explain all of your results in full detail, answering all questions along the way. You'll leave with a full understanding of what's going on inside your body, feeling empowered and in full control of your health.
And, the process won't just be a one-and-done kind of thing as you'll have on-demand access to their facility, regular follow-ups with their providers, and participate in interactive events that will help you stay motivated and ensure you crush your goals.
We should also mention that telehealth services are available in addition to in-person services. To start the process, you'll be required to select a product, such as a peptide or medication, and then schedule a consultation in order to be prescribed the product. Once everything is approved, your product will be shipped to you and you can expect to receive all applicable items like mixing instructions, bacteriostatic water for mixing, syringes, alcohol swabs, and dosing instructions.
Regenics Services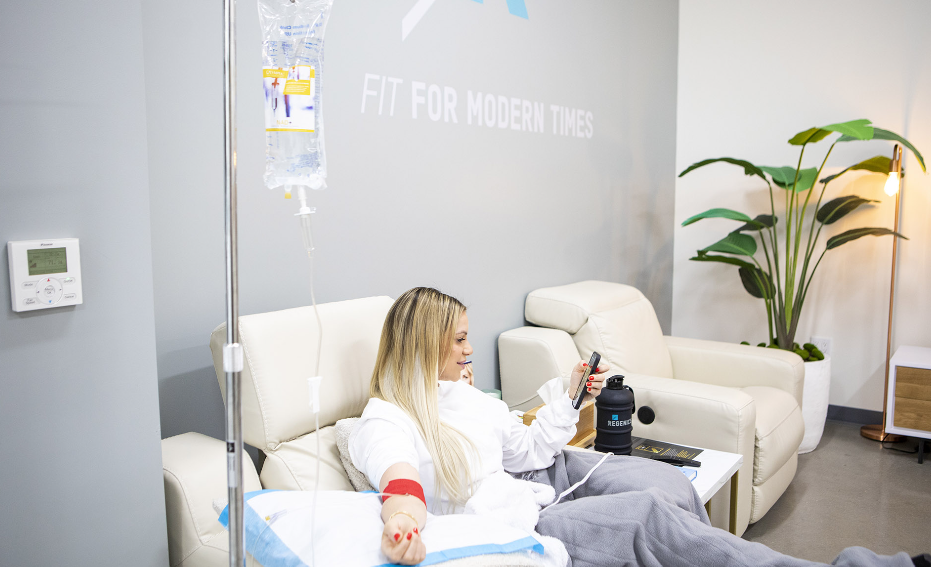 Regenics offers a comprehensive range of biohacking services including testosterone optimization, IV infusions, peptide therapy, cryotherapy, vitamin and lipotropic injections, and more. Their products and services target several major areas of health including weight loss, anti-aging, sexual wellness, and hair restoration.
While your care provider will create a customized treatment plan for your needs after initial testing, you can also sign up for their a la carte services or choose to purchase specific medications or peptides. They even offer pharmaceutical-grade supplements that are custom-formulated to maintain, enhance, and improve the function and performance of the human body. Let's take a closer look at some of their most popular products and services.
Comprehensive Blood Panel
Regenics offers a comprehensive blood panel that checks a wide variety of health parameters so that you can get a more complete picture of your overall health. You'll receive a 6-page report that includes parameters such as Total Blood Count, Testosterone, Estradiol and other Hormone levels, Vitamins, Liver and Kidney function, PSA (Prostate), Thyroid, Inflammatory Markers, and more. You'll need to get your labs checked at least once per year, but most Regenics providers recommend getting tested at routine intervals to see how your body changes over time.
Medical Weight Loss Programs
Most weight loss programs don't work in the long-term and lead to weight loss challenges later down the road for many people. That's why Regenics offers medical weight loss programs to prescribe medications that make losing weight easier and faster. Typically, Regenics prescribes Semaglutide (Ozempic or Wegovy) which is a peptide therapy that activates GLP-1 receptors which trigger satiety or fullness after a meal which helps patients lose weight safely and effectively. Semaglutide is offered on its own, or can be paired with B6, B12, or carnitine. They also offer AOD-9604 which is a peptide therapy that promotes lipolysis. Patients will be supplied with an at-home injection kit that includes a vial, injecting syringes, alcohol wipes, dosing instructions, and injecting instructions along with a free telehealth consultation, a prescription, and follow-ups.
Testosterone Optimization
Regenics TRT specialists will analyze your blood work in order to develop a personalized program for boosting your testosterone and enhancing your all-around health. Proper monitoring and dosage adjustment are involved in the process so that you can have better energy, maintain lean mass more easily, reduce body fat, and improve sexual function. Something amazing about Regenics is they offer a free initial testosterone therapy consultation to both men and women – something you won't find with most competitors.
IV Infusions
Regenics offers 7 different IV infusions to improve your overall health. Several of their infusions increase the blood concentration of key vitamins and minerals like Magnesium Chloride, Calcium Chloride, Vitamin C, and Vitamin B-12 whereas others contain a mix of electrolytes, vitamins, and antioxidants to combat fatigue and low-energy symptoms. IV treatments typically take anywhere from 30 to 120 minutes and are administered on a weekly to monthly basis, or as needed. Treatments are fully customized for each patient's needs and you can include add-ons as well.
Supplements
In addition to their in-person and telehealth services, Regenics also offers 7 different pharmaceutical-grade supplements. They provide targeted care for immune system function, hormone balance, cognitive health, cardiovascular health, and joint health. You can purchase their supplements on a one-time basis, or subscribe and receive them every 4, 6, or 8 weeks at a 10% discount.
Regenics Reviews

Worried about coming across fake reviews? Don't be! We discovered hundreds of reviews of the company on Trustindex, Yelp, and Google. All three sites reported that Regenics had an overall rating of 4.9 stars based on 240, 108, and 111 reviews respectively. Here are a few reviews that we found to be the most helpful:
"Regenics made me feel at home from the moment I walked in. Their welcoming demeanor created such a friendly atmosphere. As a first-time IV user, I had a few concerns and questions, and the staff went above and beyond to address them, ensuring that I felt informed and comfortable before proceeding with the treatment. The IV experience itself was fantastic. The highly skilled nurse Julie carefully explained the entire process, restating any lingering doubts or anxieties. She was very patient with me while administering the IV, paying close attention to my comfort and well-being throughout the session." – Shannon H.
"I love this place! I started going in 2020 when it first opened for the Cryotherapy and IVs but I added semiglutide after gaining weight and I've had such great weight loss. The facility is clean, the staff is super nice and helpful and my results have been awesome." – Emily V.
"Regenics is a game changer! I've dropped a whopping 30 lbs in just 3 months with their Tirzepatide, AOD9604, and Lipoburn pills regimen. The team's expertise and commitment have been exceptional throughout, ensuring a personalized and safe weight-loss experience. I feel rejuvenated, not just physically, but mentally as well." – Victor Gonzalez
"My experience with Regenics has been nothing short of exceptional. As a result driven individual, I found their TRT and NAD+ treatments to be life-changing. They were able to address my unique needs and monitored my progress. Within weeks, I noticed significant improvements in my energy, mood, and physical performance and appearance. The TRT boosted my testosterone levels, increasing muscle mass and cognitive function, while the NAD+ therapy revitalized my cells, enhancing my recovery and overall well-being.
"Regenics exceeded my expectations, delivering remarkable results that have transformed my life. I wholeheartedly recommend Regenics for TRT and NAD+ therapy – you won't be disappointed!." T. Zakharyan
"When I first came in, I was experiencing a lack of energy and motivation, feeling sluggish and slow. But after receiving a consultation and undergoing lab tests, the Regenics team recommended testosterone therapy replacement. The team was incredibly supportive and took the time to explain the process to me. After following the program for six months, I am now feeling better than ever before. I have regained my energy, motivation and overall well-being. I highly recommend Regenics to anyone looking to improve their health through testosterone therapy replacement. This office truly cares about their patients and their results." – Lexie Marshall
Our Experience with Regenics
Hayim from our team decided to try out BPC 157 from Regenics. He ordered one bottle of 30 capsules with 500 mcg potency. Here's a look at how he ordered the product online, set up a consultation, and what it was like receiving his product.
Signing Up for Treatment
In order to use BPC 157, Hayim had to go to the products page, select the specific product, and then choose the potency and select whether he wanted to make a one-time purchase or subscribe to the product.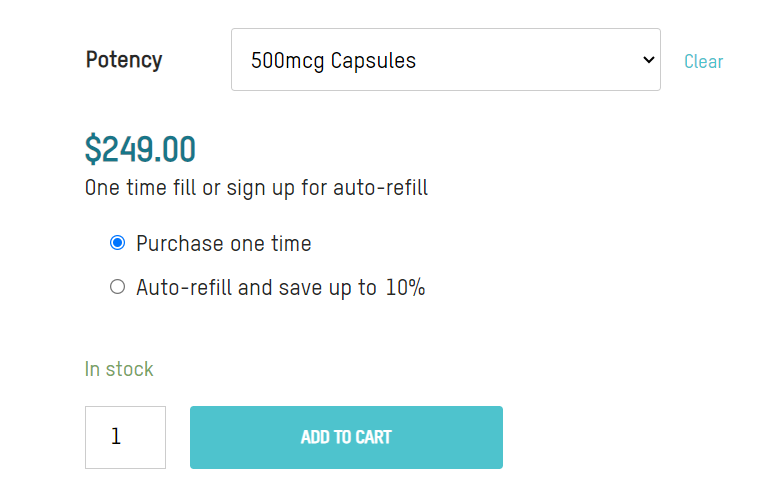 Once he added BPC 157 to his cart, he proceeded to checkout to purchase the product. He was able to pay for the product with a credit card and could use either VISA, Mastercard, American Express, or Discover. The total cost for BPC 157 with shipping came out to $289, but he used our promo code brawn10 to get 10% off which dropped the total cost to$264.10.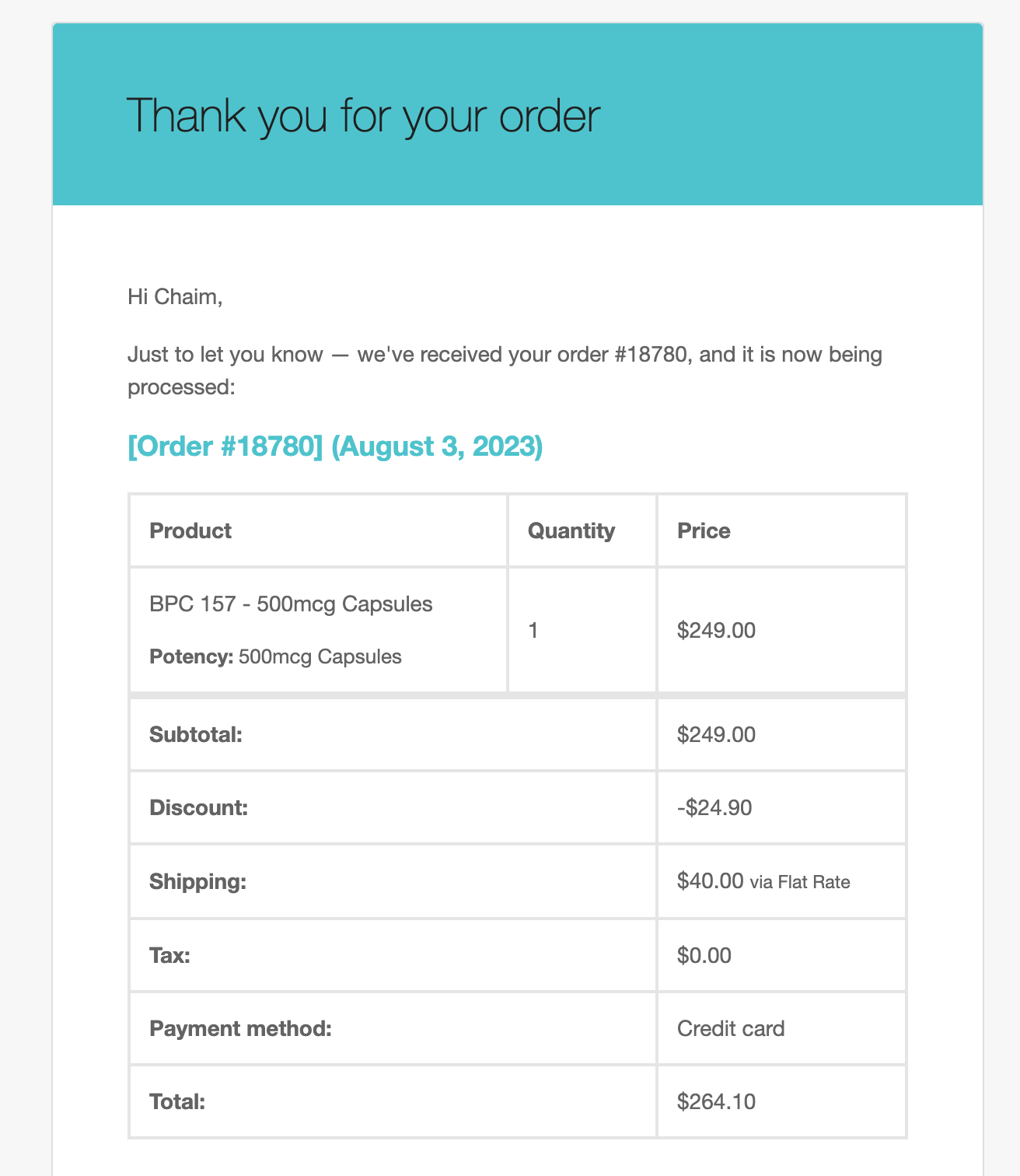 Prior to completing his purchase, he had to acknowledge that he read the terms and conditions as well as the telehealth consent form. He also had to agree to schedule a free telehealth consult to screen for eligibility in order to use BPC 157.

Booking an Appointment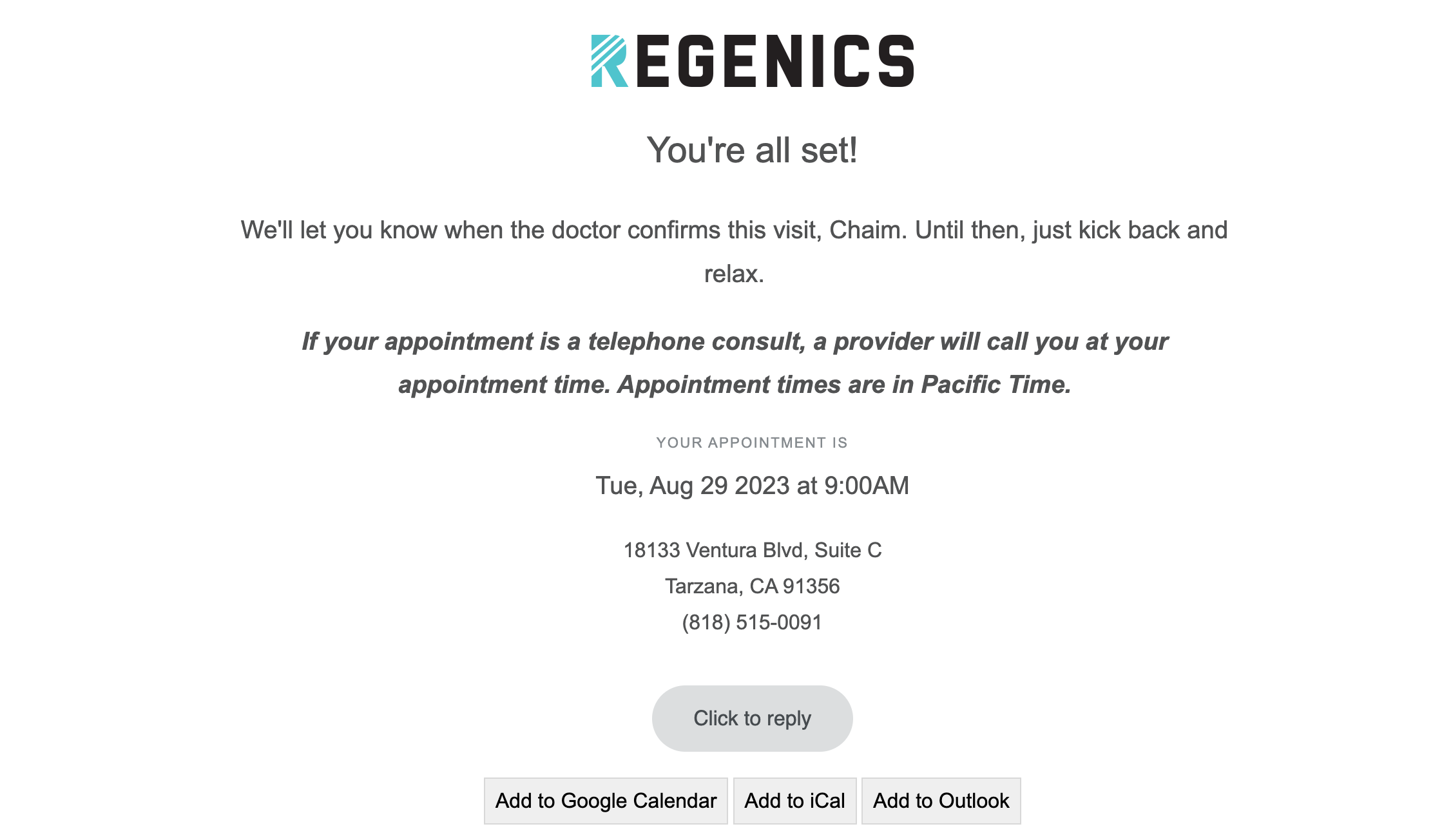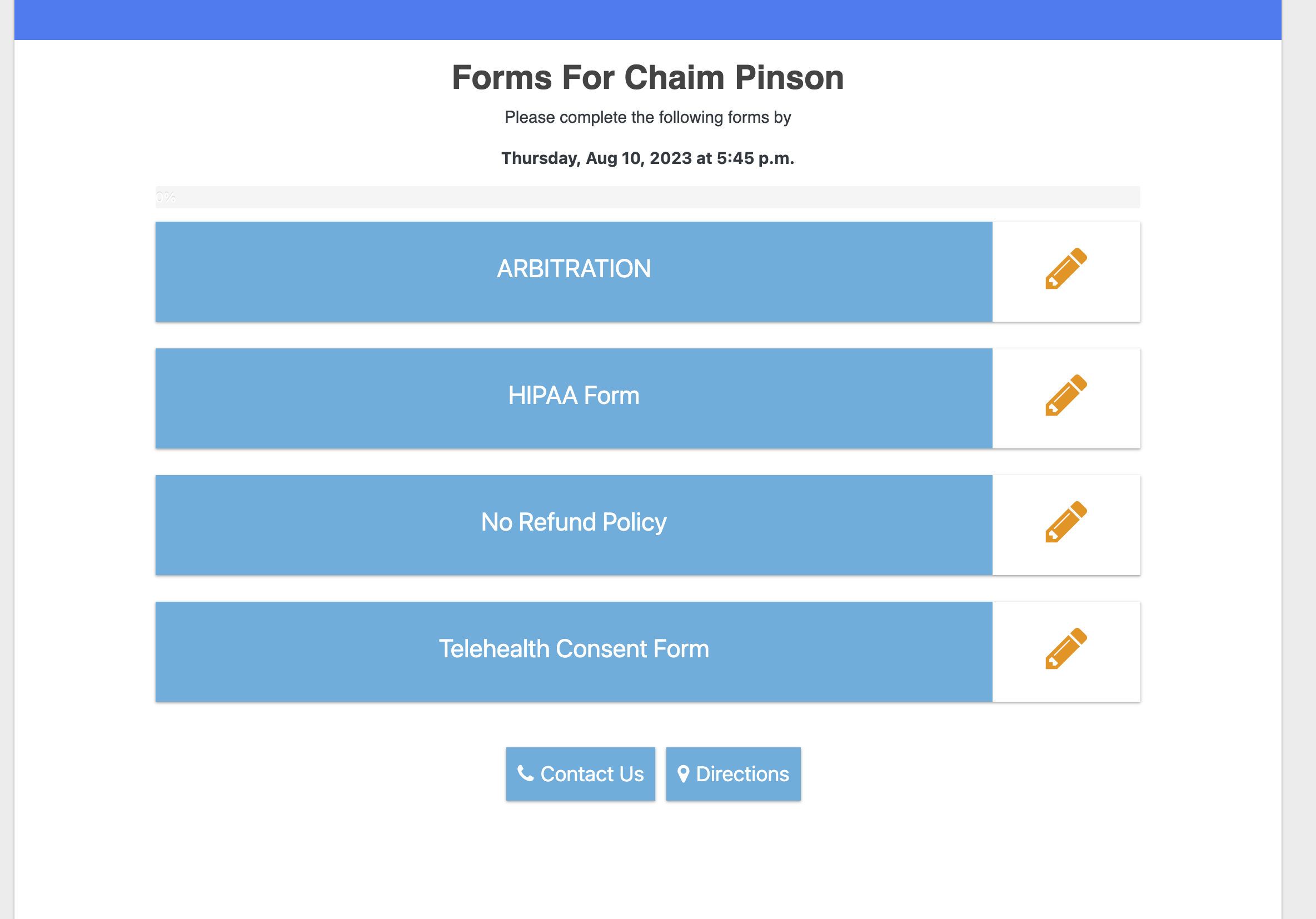 After he placed his order, he was contacted via email by Regenics to complete several patient forms and schedule an appointment. Regenics also contacted him via text to confirm his appointment once he scheduled it.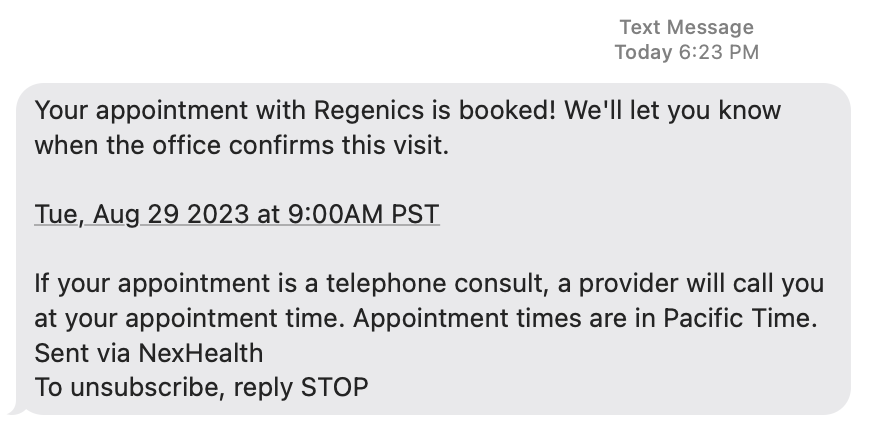 Telehealth Appointment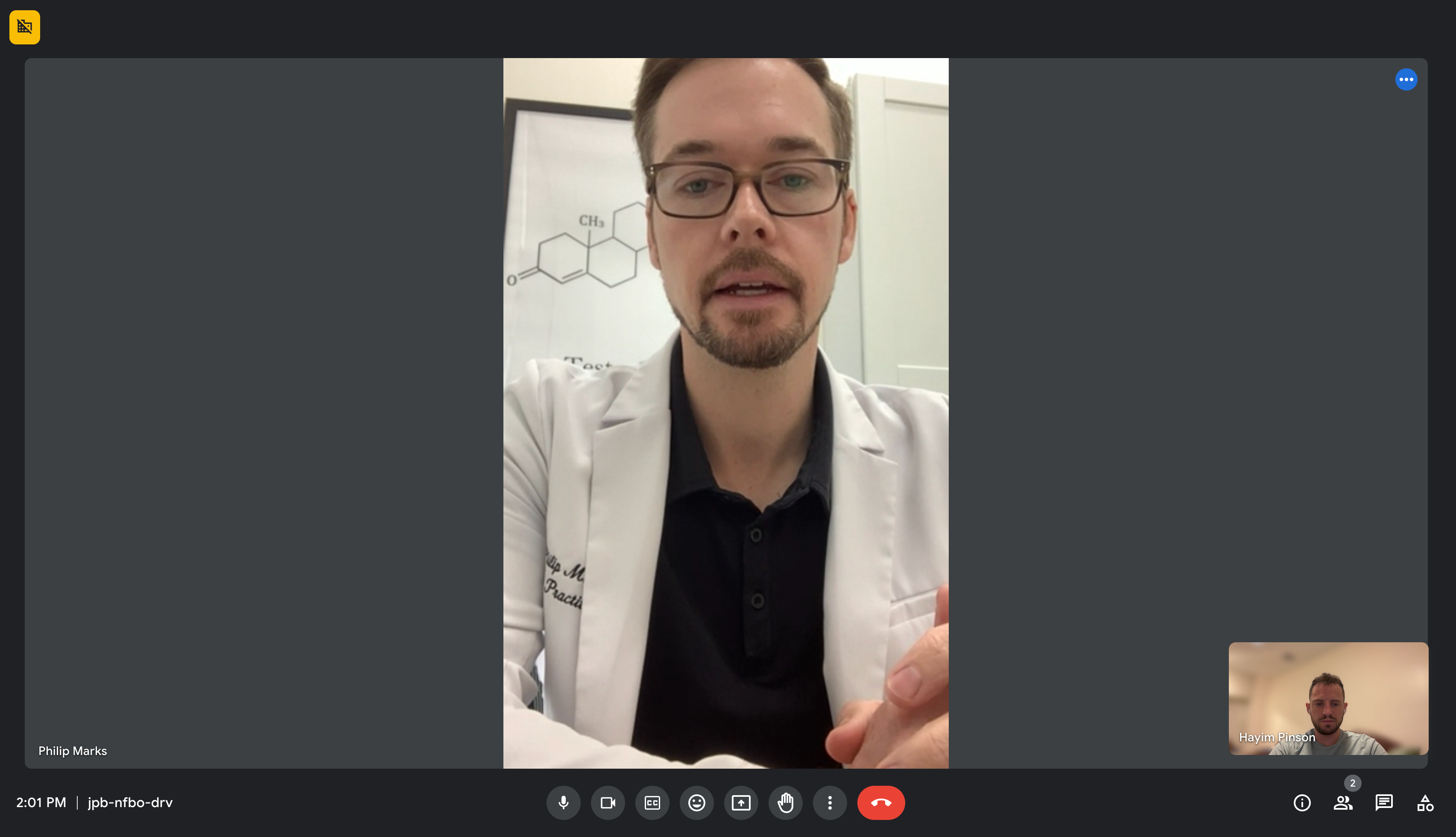 The telehealth appointment lasted for about 30 minutes and Hayim was approved to use BPC 157 for ligament and tendon healing. His provider was very personable and answered every question he had about the product and reviewed his dosing schedule.
Shipping and Packaging
Hayim placed his order for BPC 157 on August 3rd and received the product on August 8th, which is a pretty fast turnaround time. Here's a look at the package he received along with the product: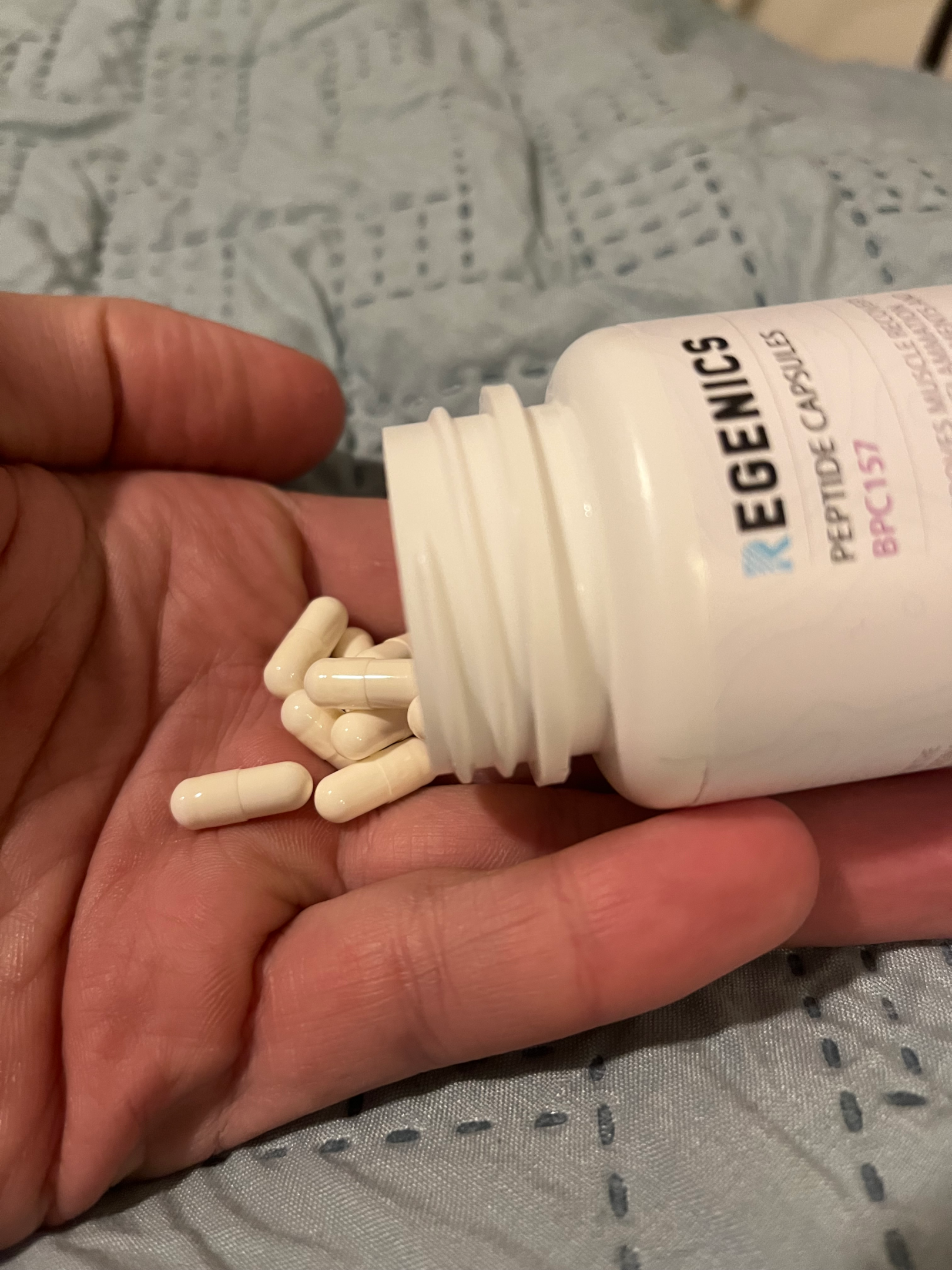 As you can tell from above, the product was shipped in highly protected packaging and came in easy-to-take capsule form. Within the first 2 weeks, Hayim noticed major improvements in regards to pain reduction and mobility in his knee.
Final Thoughts
Regenics is the end-all-be-all for biohackers and anyone who wants to improve all areas of their health. They offer a huge range of products and services including hormone optimization, IV infusions, peptide therapy, cryotherapy, pharmaceutical-grade supplements, and more.
You can choose to visit them in person or use their telehealth services to receive the help you need ASAP.
Hayim from our team was extremely satisfied with his purchase of BPC 157 and thought that the entire process from ordering to his consultation and receiving his product was fast and easy. He experienced results within 2 weeks of using his peptide therapy and is excited to see his continued results.