Summary
💊 🧪 Forms: Capsule SARMs and Supplements
📄 Lab Verified (COA): Yes
📬 Shipping Policy: Free shipping worldwide.
💵 Payment Methods: bank transfers, crypto, PayPal, and most card payments including VISA, MasterCard, and UCB
Other Products: Caffeine nasal sprays, PCT, fat burners, and more
🏷 Price Testolone RAD140 10mg 60 capsules: $55.00
🏷 Price Yohimbine 5mg 60 capsules: $20.00
Selection

Pricing + Fees

Reputation
Pros
Offers both SARMs and supplements
Contained in veggie capsules (HPMC)
Ships worldwide
Products target different areas of health and performance
Accepts several forms of payment
Cons
Some credit cards and banks won't authorize payments at first
Only one form of SARMs is available
Selection of supplements isn't as large as SARMs
Customer Reviews
( reviews)
Looking for a one-stop shop for supplements and SARMs? Look no further than Biaxol Supplements!
Biaxol has become a worldwide leader in the realm of sports supplements and research chemicals since its launch in 2014.
This European-based company provides customers all around the world with a great selection of performance-based products that are comprised of exceptional formulations crafted by world-class specialists.
Here, we'll cover everything you need to know about this brand and also provide an up-close look at our experience ordering from them.
Warning: The content on Muscleandbrawn.com and the information included in this article is intended for entertainment and informational purposes only. It is not intended nor implied to be a substitute for professional medical advice. Prior to buying anything, check that it is compliant where you live with your current government laws. We frequently mention research chemicals that are not made for human consumption. Therefore, before purchasing any product for personal use, consult with your doctor or healthcare provider first.
Who are Biaxol Supplements?

Biaxol Supplements is a manufacturing company in sports nutrition and offers both supplements and SARMs. Their certified manufacturing facilities only use high-quality ingredients and strict quality control when developing products, so you never have to worry about product quality or safety when handling.
Since 2014, they've served nearly 6,000 customers and have sold just under 10,000 products. Whether you're looking to buy the latest SARMs for research purposes or need a supplement to improve physical performance or health, Biaxol's got you covered.
Products Sold by Biaxol Supplements

Biaxol currently sells 14 individual products and 4 stacks. You'll come across some of today's top SARMs like Andarine (S4), Ligandrol (LGD4033), and Ostarine (MK2866). There are also several supplements available that help with major health areas like immune system function and fat loss such as Immune Boost and Yohimbine. Unlike other SARM companies, Biaxol sells a bit of everything and can help you achieve your goals whether it's rapid muscle growth, boosting overall athletic performance, reducing water retention, or improving stamina.
Biaxol Supplements Payment Methods
Currently, Biaxol accepts bank transfers, crypto, PayPal, and most card payments including VISA, MasterCard, and UCB. Keep in mind that all prices are in Euros and that some banks or credit cards may reject your purchase initially since Biaxol is a European company. However, most institutions will approve charges by Biaxol if you reach out to them after attempting your first purchase (more on that below).
Biaxol Supplements Shipping
Biaxol Supplements ships to customers all across the globe for free. Every item is wrapped effectively to avoid scratches or damages throughout shipping and you can expect to receive your products within 3-7 days if you live in Europe, or 7-14 days for all other locations. You'll receive an e-mail with tracking details as soon as your order has been processed and shipped.
Biaxol Supplements Reviews

Biaxol Supplements has a very high rating on Trustpilot at 4.7 stars based on 120 reviews. Here's what customers have to say about the brand:
"I recently placed an order with Biaxol. I had some questions regarding my order, and Samantha gave excellent and timely answers to my queries. She really went above and beyond. Biaxol has a wide range of products, and I was able to find what I was looking for with ease. I am based in Europe and shipping was fast. Now, the rest is up to me and putting in the gym time. No doubt I will be ordering again!" – Alvaro

"I was looking for SARMs, but I was scared about all the strange website I found on internet, cause there is a lot of scams. I ended up having a try with Biaxol, and I ordered some RAD140 on their website.
After 2 weeks, I really see the difference!" – Emerson Hemon

"Well when I first emailed the company they got back onto me straight away and advised me on which supplements to take ,Then when I ordered the company emailed me and within 3 days I had my order ,can't wait to make another order with them." – Dave Russell

"Uncomplicated process, very helpful customer support. Delivery took about 2 weeks. A bit too early to review the product itself. But I'm glad I ordered from Biaxol and will continue to order everything I need from Biaxol in the future." – O. Raiz

"It took a while to arrive but they responded immediately and it arrived within the period they gave me. The products arrived perfect and at the moment they work perfectly." – Joaquim llado
My Biaxol Supplements Experience
Based on online reviews, it seems like Biaxol Supplements is worth a try. But, how can we be sure? I decided to order some products from the company to see if they were legit, and here's my honest experience with them.
Selecting Products
Since Biaxol sells both supplements and SARMs, I decided to buy one of each product. I chose to order Yohimbine and Testolone RAD140 and each bottle contained 60 capsules. Here's what both products looked like online along with their quantitative analysis results:
Yohimbine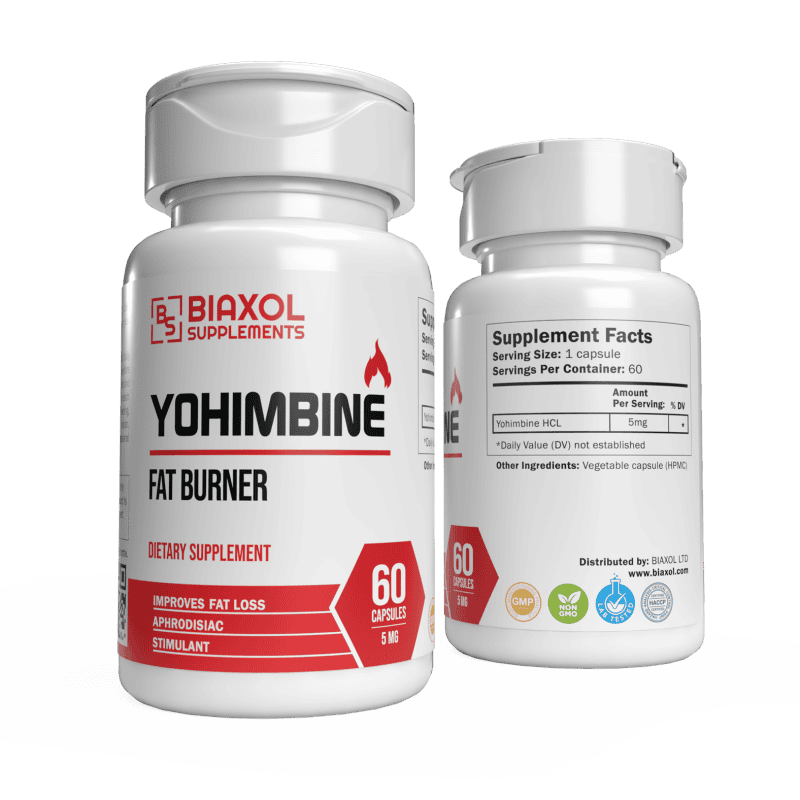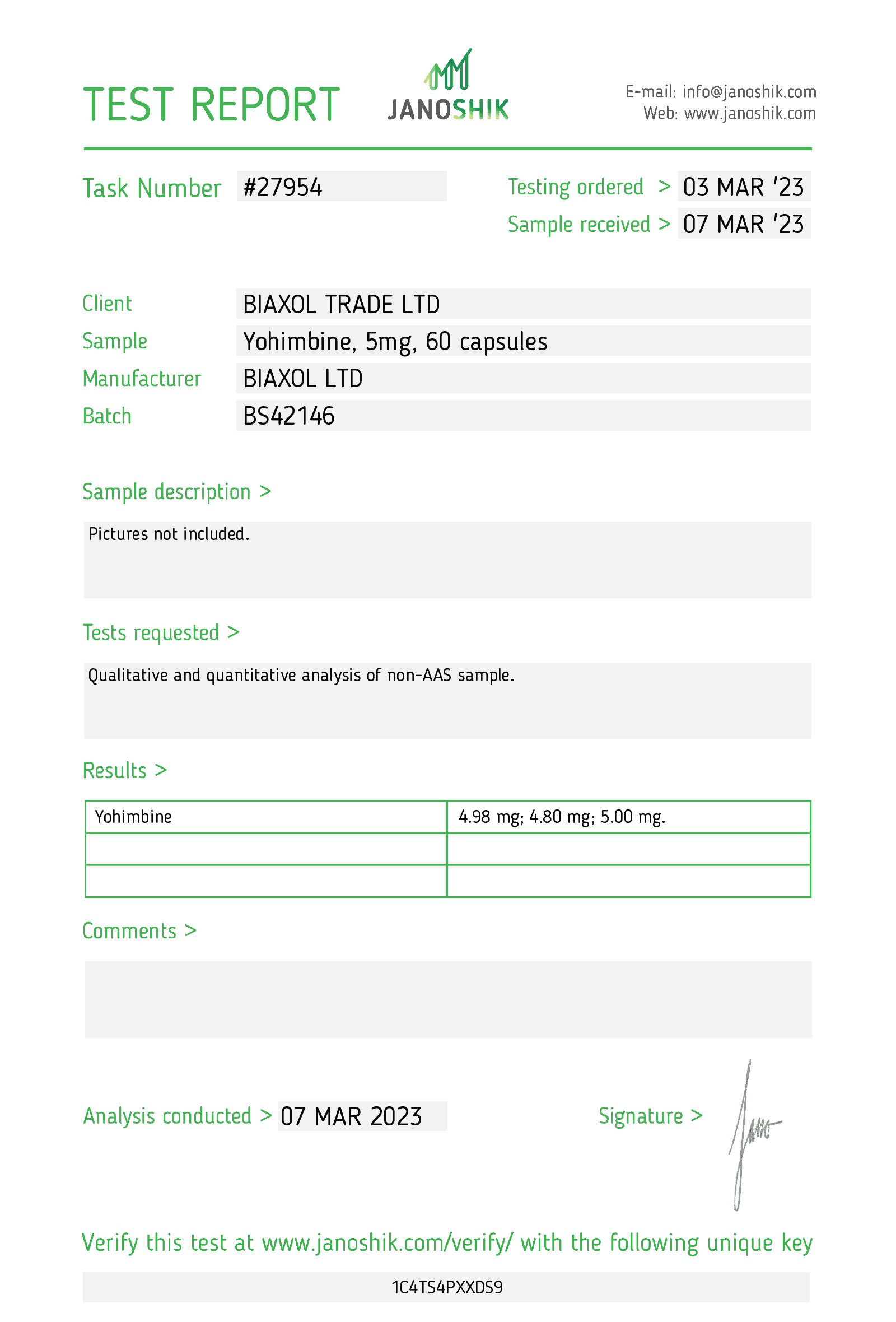 Testolone (RAD140)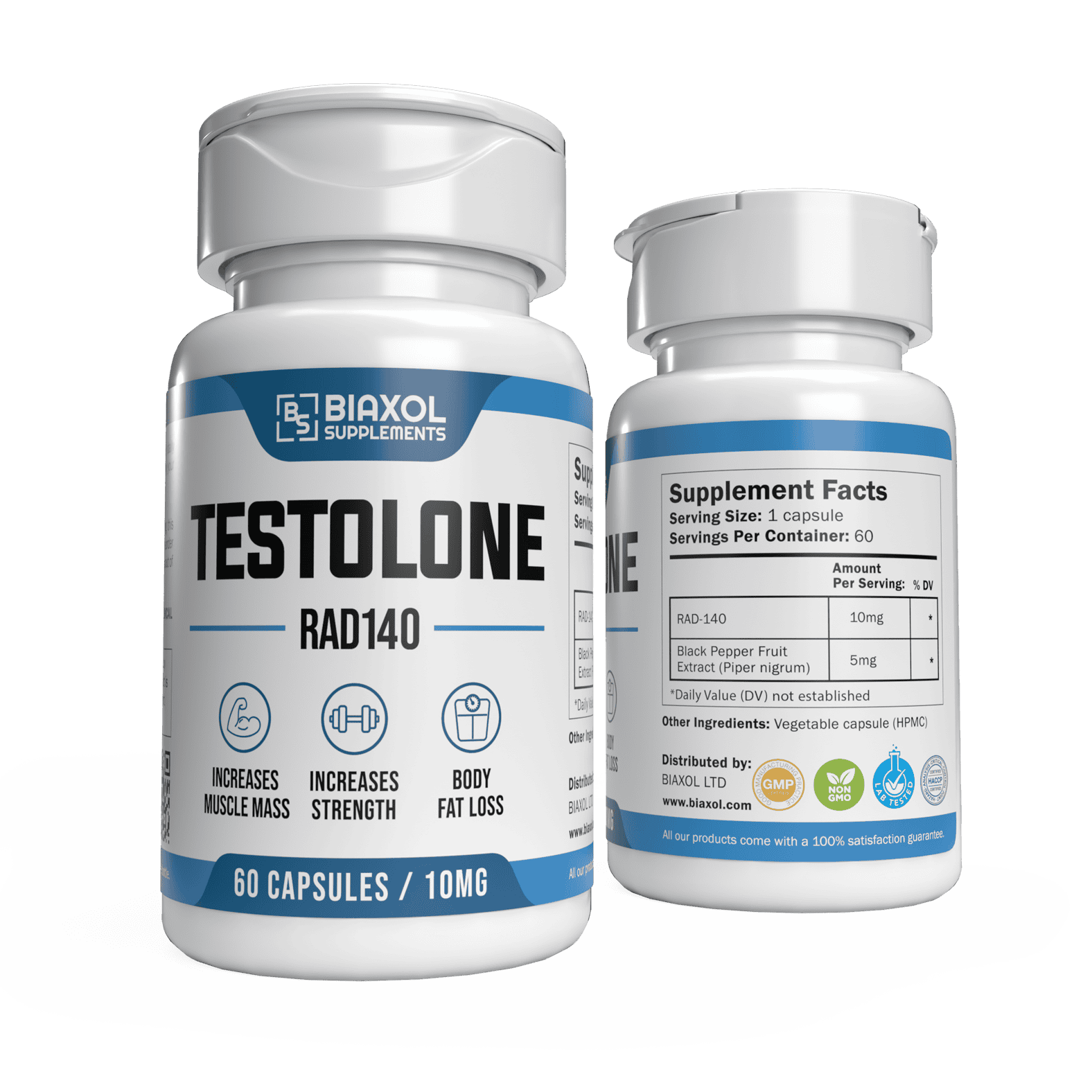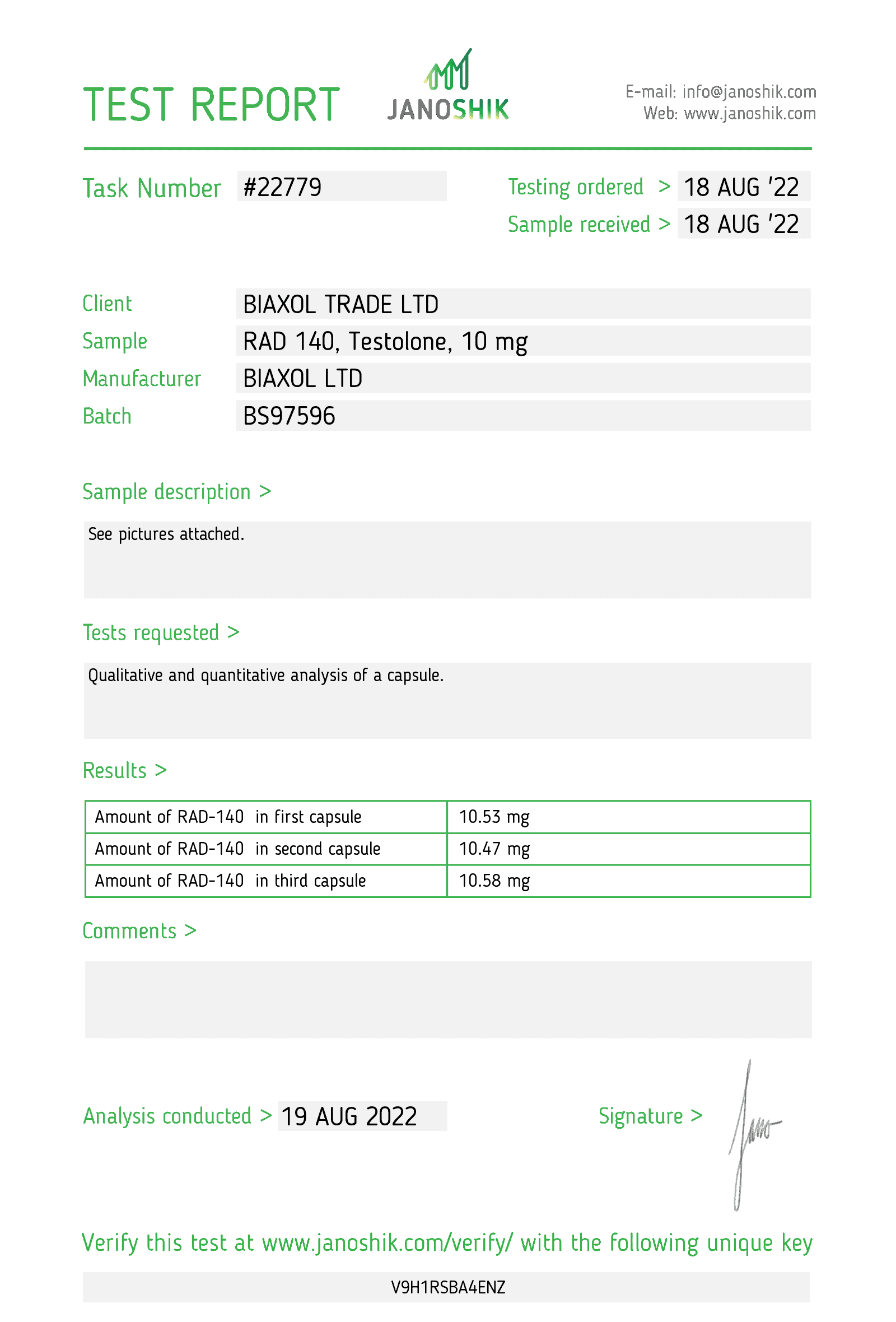 Payment Methods

During checkout, I decided to use my credit card. Unfortunately, the payment failed after several attempts since my company detected fraud (I'm US-based). Thankfully, I was able to reach out to my credit card company to resolve the issue. Once they approved everything on their end, I was able to complete my purchase a few minutes later.
Shipping and Delivery
Considering that this was an international transaction, I received my order very quickly. I got my products within 7 business days. Here's an unboxing video to show you what their packaging and products are like:
About the Products I Received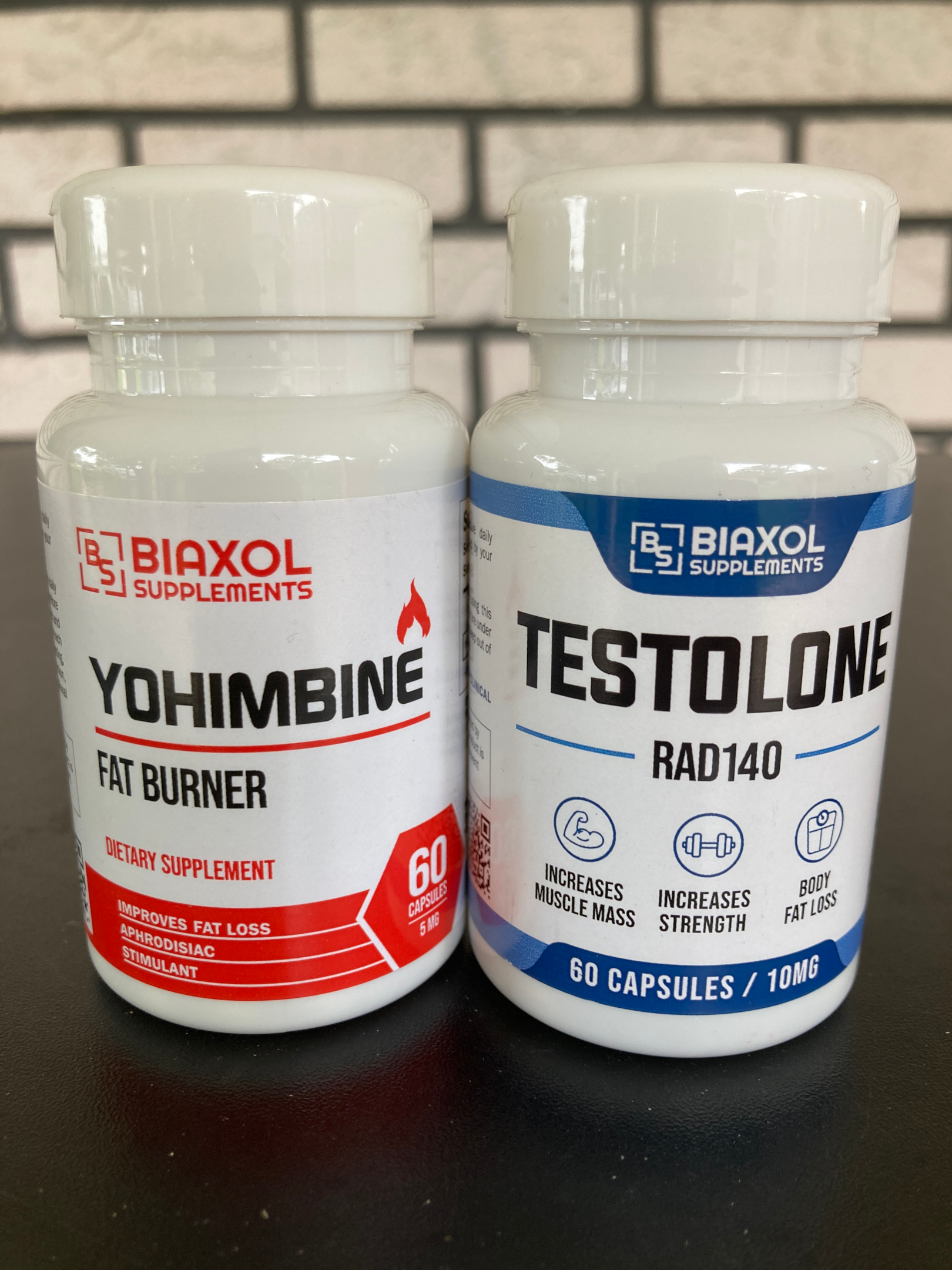 The products looked exactly like their pictures online. Let's examine them closely and discuss more about them!
Yohimbine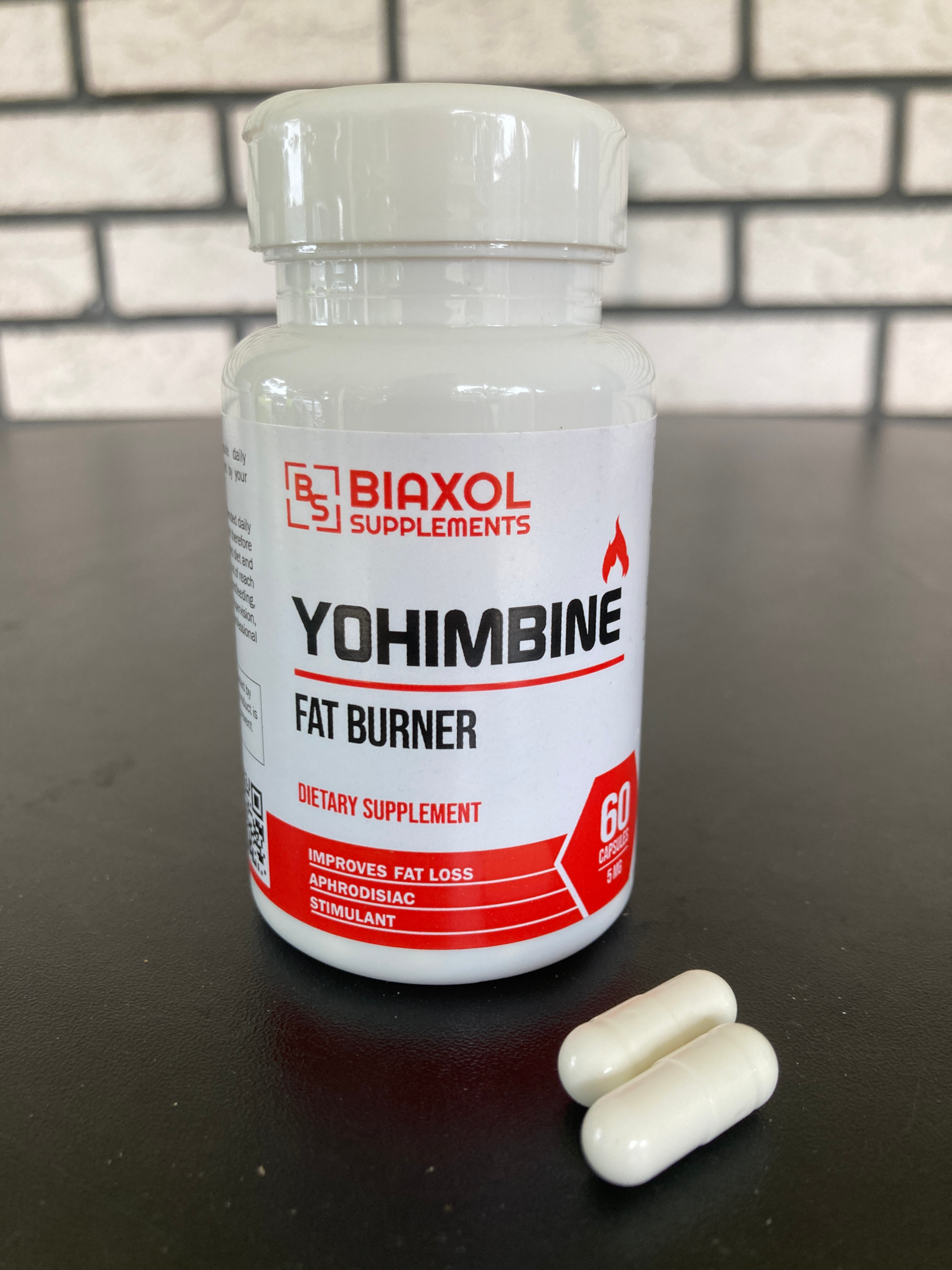 If you've used yohimbine before, then you realize just how serious this product is when it comes to fat loss. It acts upon the adrenergic receptor system in fat cells which promotes thermogenesis, and it also works as an aphrodisiacthat can help men suffering from erectile dysfunction.
Biaxol Supplements did a great job with this product as it contains the most bioavailable form of yohimbine out there: yohimbine HCl. And the serving size is perfect, sitting right at 5 mg. Personally, I'm very sensitive to yohimbine and have only used 2.5 mg per serving in the past, but this dosage is a good starting point for men and works well for women who are used to taking this supplement. Higher dosages between 15-20 mg may result in tachycardia and hypertension in some individuals, so 5 mg is defintiely a sweet spot and the dosage can be increased as needed.
Need proof that it actually works? Check out the following 2 studies conducted on the effectiveness of yohimbine HCl, one towards fat loss and the other towards ED.
One study involved the administration of 10 mg of yohimbine twice daily to elite soccer players for 21 days. After controlling for factors like diet, it was found that body fat percentage decreased from 9.3+/-1.1% to 7.1+/-2.2% (1). Thus, it was determined that yohimbine supplementation appears to be suitable for fat loss in elite athletes.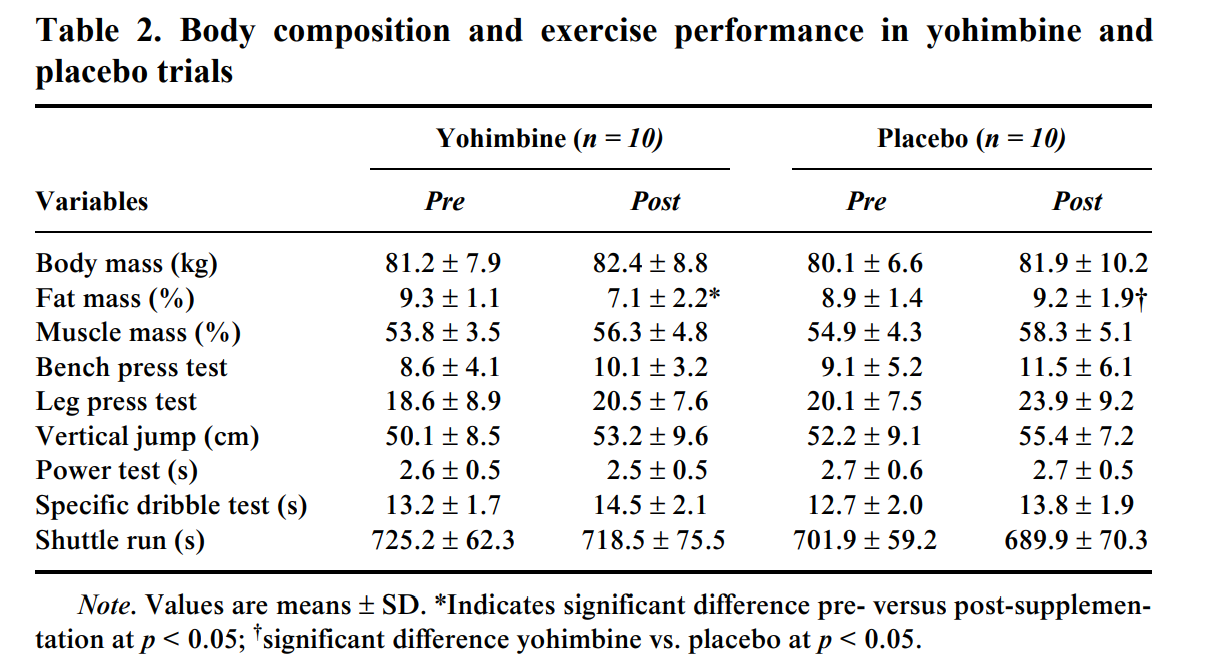 Another study examined the effectiveness of combination therapy of 6 mg of yohimbine with 6 g of L-arginine compared to 6 mg yohimbine alone and a placebo in resect to the treatment of erectile dysfunction. It was discovered that the Erectile Function Domain scores were higher in both groups compared to the placebo (7.2+/-7.17, 15.4+/-6.49 and 14.1+/-6.56, respectively.), and that the difference in scores between the combination group and the yohimbine-only group were was statistically significant. The results indicated that on-demand oral administration of the L-arginine glutamate and yohimbine combination was effective in improving mild to moderate ED patients (2).
Testolone (RAD140)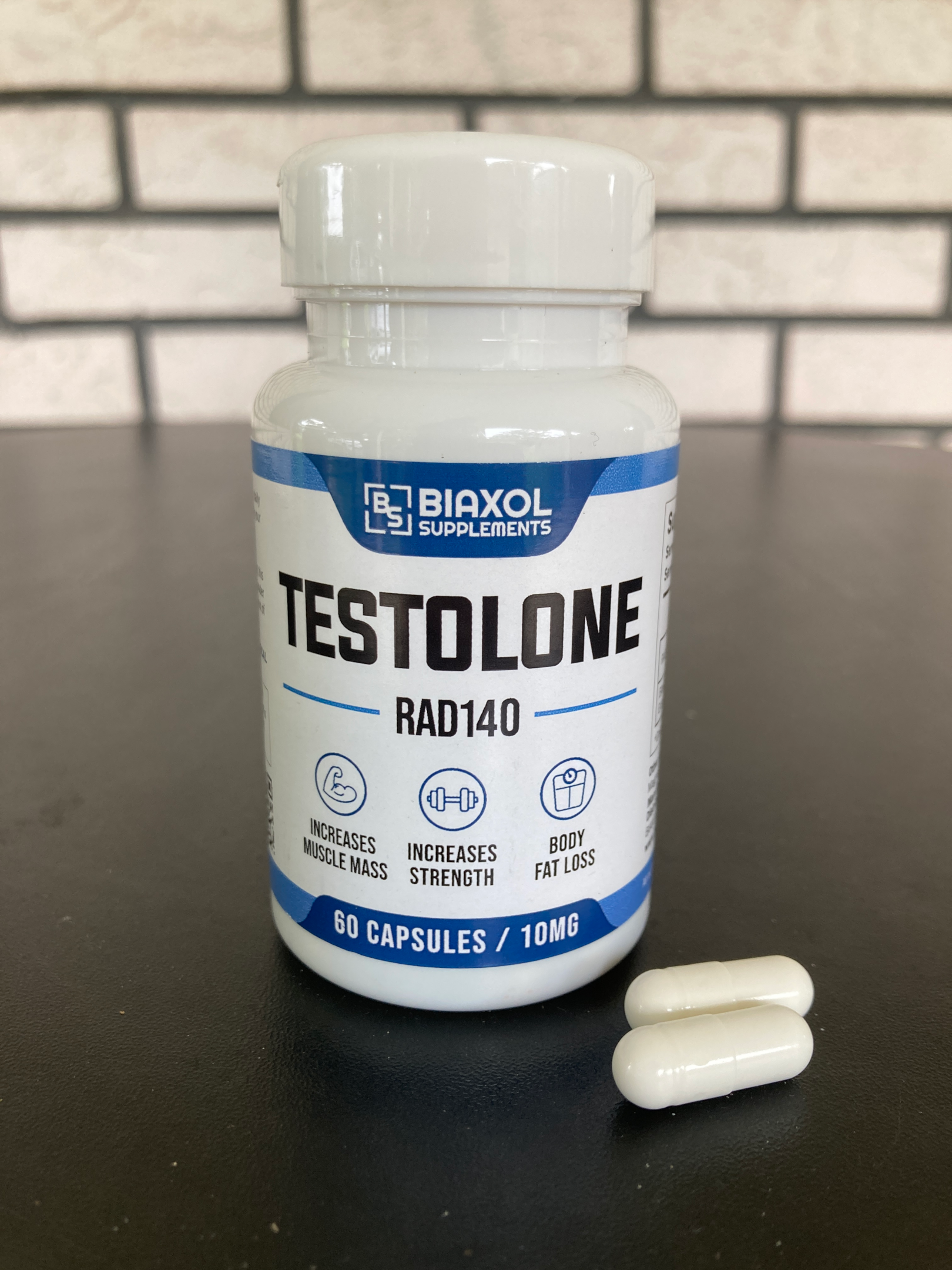 Testolone (RAD140) is one of today's most powerful selective androgen receptor modulators (SARMS) for building muscle mass, boosting testosterone, and increasing stamina. Patients enrolled in research studies conducted on this SARM are typically administered 10 to 30 mg per day, for no more than 8 to 12 weeks. Each capsule of Biaxol's RAD140 contains 10 mg of Testolone paired with 5 mg of black pepper fruit extract, so you're definitely getting a highly bioavalable product.
It has been characterized in a number of in vivo assays to determine its oral efficacy on various parameters associated with androgenic activity in preclinical models. One study administered RAD140 to young castrated and intact male rats in order to assess its effects through a range of endogenous androgenic signaling backgrounds. It was shown that RAD140 stimulated the levator ani muscle beginning at a dose of 0.03 mg/kg (po) and reached a level of efficacy equivalent to the sham-operated animal at 0.3 mg/kg. Altogether, RAD140 appeared to be a potent and complete androgen agonist on the levator ani in young castrate male rats (3). Keep in mind that this study does have its limits as it's an artificial situation that's not reflected in the target adult human male population due to the very low endogenous androgen levels of the rats.
Another study was conducted in young, male cynomolgus monkeys to establish efficacious dosing levels. After administering RAD140 at 0.01 mg/kg, 0.1 mg/kg, and 1 mg/kg per day over the course of 28 days, the following results were obtained:
"the change in baseline subtracted body weight from day −1 to day 29 was statistically significant for the 0.1 mg/kg (p < 0.01) and 1.0 mg/kg (p < 0.05) groups only. The change in body weight at day 29 between the 0.1 mg/kg group and the 0.01 mg/kg group was statistically significant (p < 0.05) but not for 1.0 mg/kg and the 0.01 mg/kg group (p < 0.1)."
Overall, a mean weight gain of greater than 10% was achieved at a dose of just 0.1 mg/kg, with a similar effect observed at the 1.0 mg/kg dosing group over the course of 28 days. And, while there was no consistent effect on absolute fat mass, muscle showed a qualitative trend that increased with dose (3).
While there is certainly a need for human studies, RAD140 seems promising as an alternative to anabolic steroids due to its effects and safety profile thus far. It certainly demonstrated its ability in the above studies to increase muscle mass, and it will be interesting to see what future research has to say about this SARM.
Final Thoughts
If you're looking to get some of the world's highest quality products for supplements and SARMs in one place, then Biaxol Supplements is where you should go. They offer products for targeting most health and fitness goals, such as building lean muscle mass, improving bone mineral density, enhancing overall performance, and aiding fat loss. I was impressed by the company's products and thought they were carefully crafted: not only are the capsules veggie-based, but each product contained just the right dosage of compound so that you can adjust your dosage easily. Would I purchase more supplements and research purpose chemicals from Biaxol again in the near future? Absolutely!